Awesome Osmunda
Date: 2 Nov 2013
In the colours of Tom Hogan, Osmunda (3 f O'Reilly - Wyndam Special, by Centaine) gained a timely win in the Feilding Hotel Maiden 1600 metres on Saturday at Awapuni.
Considered by Te Akau trainer Jason Bridgman to be capable of contesting staying races for three-year-old fillies later in the season, Osmunda required a victory and did so at her second start after finishing runner-up over 1400 metres on Oct. 7 at Avondale.
As she did on debut, Osmunda drew a wide barrier and settled fourth last in a field of seventeen for jockey Matt Cameron. Set alight with a circling run from the 600 metres, she mounted a stern challenge to lead at the 100 metres and drove home to win.
On good footing, Osmunda covered the mile in 1:37.1 and paid $5.00 & $2.00 on the NZ TAB.
Owned by Sir Patrick & Justine, Lady Hogan, Osmunda is raced by them along with the Ballindooley Syndicate (Mgr: Candice Barker).
"It was fantastic and great for her," said Sir Patrick. "As a yearling she was very backward and early on in the stables she never carried a lot of condition and her coat was never spot-on. She was behind the other fillies, but she's obviously got the quality of a good heart.
"I had two fillies in the stable that I was racing one-hundred percent and a team of my nieces, nephews and relatives asked if they could lease a filly. I told them I had two fillies going into the Te Akau stables and rather than lease one, they could cover their bets and lease two [the other filly Jewels Gift (Stravinsky) finished third earlier on the programme at Awapuni].
"So, I leased twenty-five percent in each filly and Justine and I race seventy-five percent. When we discussed the racing colours, I suggested we resurrect my father's colours, Tom Hogan, which hadn't been used for many a year. We thought that would be a lovely touch in remembrance of my father. They are lovely colours (emerald green, black sleeves, purple armband and cap)," said Sir Patrick.
A very correct filly, Osmunda has made a grand start to her racing career after displaying good attributes in her two most recent trials. She can relax in her races and has already shown the acceleration necessary to get the job done.
Her dam, Wyndam Special, won her first two races, including the Cadbury Roses (Listed, 1200m) second-up at Flemington.
With Osmunda having notched an all-important victory, trainer Jason Bridgman will now be able to plan upcoming assignments for the three-year-old filly.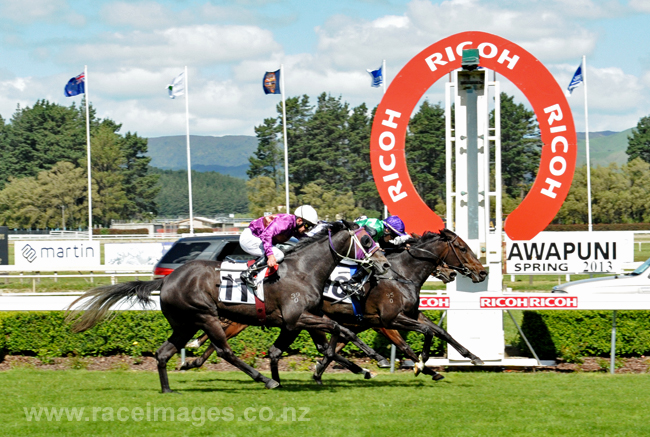 Photo credits - www.raceimages.co.nz
Back