Moreira Magic
Date: 18 Oct 2013
Last weekend Singapore racing farewelled "Moreira Magic" as he heads to Hong Kong where "Moreira Mania" is building.  The Singapore Turf Club reports:
Joao Moreira's fairy godmother did not leave his side right up to the final chapter of the fantastic tale that has become the stuff dreams are made of in his five swashbuckling years in Singapore.
Having taken all before him - three Singapore champion jockey titles and a fourth already sealed, 25 Group wins, including five at Group 1 level, an out-of-this-world eight from eight on September 6, 2013, oh and did we mention a mind-numbing haul of 717 wins just before Sunday's meeting - Moreira had the racing world waiting with bated breath to see if he could pull off one last hurrah fitting of such previous stellar accomplishments before he pulls up stumps for the Hong Kong racing arena.
True to form, Moreira did not disappoint. With one last stroke of his fairy godmother's wand and a sprinkle of his own "Magic" stardust, the Brazilian burst into a swansong that could not have boomed louder around Kranji - and been better scripted.
He aptly opened the symphony with a classic by (the Mark Walker trained) Brahms And Liszt, followed by Orakei Korako and Euro Zone before scooping up the feature race on offer, the Group 3 More Magic Millions 2013 More Magic 3YO Championship with one of his pet horses, (again trained by Mark Walker) War Affair.
For a fitting finale, he could not have dreamed up better when the maestro's works reached tear-jerking pitch with Dragonfly landing the penultimate event for the family that breathed fire into the incendiary path he has scorched at Kranji - the Dragons.
Retired trainer Douglas Dragon was the one who brought the then virtual unknown to Singapore in 2009, and the Parana native duly expressed his gratitude by booting home his first Kranji winner aboard Ascendant for Dragon on March 21, 2009.
Four and a half years later, Moreira steered Dragonfly, the horse with the predestined name, to his 722nd Singapore win, for Dragon's daughter Leticia. Scribes already had their pens poised for a Dragon special bookending the spectacular Singapore career of Brazil's best export since coffee and recently, waxing, but the thing is he still had one more ride - Superb Success, yes another token of serendipity - and it gets better, for the very same trainer who gave him the Perfect Eight five weeks ago: John O'Hara, the trainer of Faretti, the horse who hurled Moreira into racing's record books.
One must feel sorry for the Singaporean trainer (not that the low-profile man himself did), who must have felt like deja-vu when one of his steeds passed the line first and the media frenzy unceremoniously brushed him aside as they shoved their microphones and tape recorders under the nose of a man who has yet again brought Kranji to a standstill, sadly this time, a few hours before he heads to the airport with a one-way Hong Kong air-ticket.
Struggling for words, as he has often been asked the same questions so much so he had presumably run out of original words to voice out his feelings, Moreira again remained humble till the last stand as he waved to the plaudits of the crowd who had stayed till the last race.
If there was not a dry eye as he approached racing commentator Matthew Jones' microphone for the umpteenth time, his was about to get really wet. Fellow jockeys Jose Verenzuela and Corey Brown snuck up from behind and dumped two buckets of ice-cold water onto Moreira, who sportingly joined in the madcap revelry as he tried to hug the two pranksters in his wet silks.
After popping yet another bottle of champagne and taking a good swig, Moreira was finally able to give a victory speech for one last time at the Singapore Racecourse, and again, the two words the Portuguese-speaking hoop probably drilled into his head when he first came to Singapore and uttered the most at all his previous 722 wins, gushed out from his bubbly-soaked mouth: Thank you.
"I still can't believe I've won six races and at my last race here. It couldn't have finished any better," said Moreira whose tally for 2013 has stopped at 179 wins, only 27 shy of his 2012 record of 206 wins.
"I honestly didn't think this horse (Superb Success, ex-Aradea, $21) was a top chance as at his last start, he missed the jump. But I was able to get the best out of him and he gave me a very good run to the line.
"I'm so glad all my good friends, jockeys, trainers, owners, fans, everybody, are here to celebrate this last win and my last day in Singapore. This will stay in my heart forever.
"I really appreciate the support I got from everybody. I say a big thank you to all of them and I hope they will still support me when I am in Hong Kong."
Brown, one of those widely tipped to take over Moreira's mantle, had only good words for his rival on the track and good friend off it.
"It's so fitting he's won at his last race today. He's a true champion and I wish him all the best in Hong Kong," said the Australian jockey who himself rode in the former British colony in a not-too-distant past.
Being two of those with no rides in the last race, Brown and Verenzuela had gladly volunteered to spring the drenching surprise (see below). Verenzuela also joined Brown in wishing the outgoing rider well in his new adventure.
"Joao, I wish you good luck. You are an outstanding rider and I'm sure you'll do well in Hong Kong," said the Venezuelan jockey.
It is unfortunately curtains on the 'Magic' Moreira era that has engulfed Singapore racing for close to five vintage years that will be a really hard act to follow, and one can only hope this was not the last time Moreira's wizardry will be seen at Kranji.
But for now, to quote Joao's favourite words: "Thank you champ". Oh and for a change. Muito obrigado. Boa sorte.*
*Thank you very much and good luck in Brazilian Portuguese.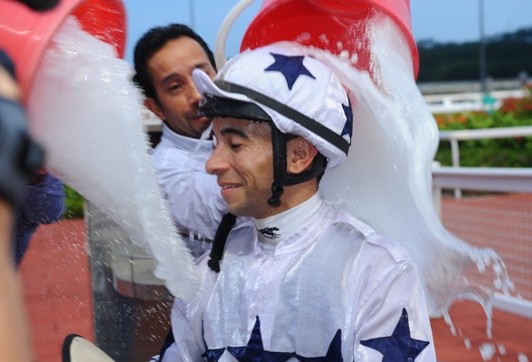 Back